The year 2015 heralds a remarkable event – the ANZAC Journey of 100 Years. To develop awareness and the significance of this event, an incursion was organised for the Senior Campus on 13th March.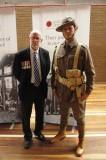 The Victoria's Journey of Remembrance was aimed at encouraging Victorians to learn more about World War One History. The presentation was very innovative combining video, theatre and narrative to explore the ANZAC story. The Chief Guest for this event was Ms Natalie Suleyman, the local Member of Parliament representing St. Albans. Being of Australian-Turkish descent, Ms Suleyman delivered a heart rendering speech about the ANZAC tradition. Ms Suleyman will be travelling to Gallipoli to witness the ANZAC 100 Years Service.
The students were thoroughly engaged by the Cultural Infusion tour group and were encouraged to research their personal connections and work within their local communities to broaden their understanding of the ANZAC journey. On the whole it was a very educational journey for the staff and the students of the College.
PRAMILA DEVI
YEAR 10 HISTORY TEACHER