Congratulations to our Year 9 & 10 Intermediate and Senior Rugby League Teams who did our College and community proud recently by winning the State Rugby League 2015 Championships!
U/16 Cooper Cronk Shield Final
On Wednesday Sept 18 the VUSC team travelled to Fregan Reserve, Clayton to participate in the final of the Cooper Cronk Shield. Having qualified for the final 2 weeks prior, the team was expecting a tough game against their local rival, Braybrook College.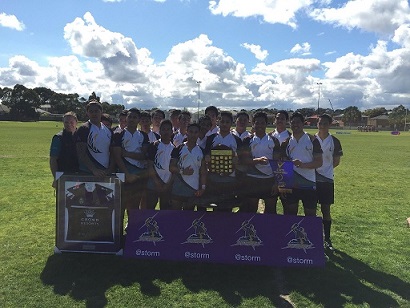 Starting the game off in scintillating fashion VUSC scored four unanswered tries within the first 20 mins and were totally dominating the play. However, a soft try just before half time gave Braybrook a lift in confidence with VUSC leading 20 to 4.
In the second half, no one could predict what was to unfold. Playing with far more confidence and renewed enthusiasm, Braybrook managed to score 3 of the next 4 tries and were putting VUSC under enormous pressure. To combat this surge VUSC went back to basics and to their credit they were able to regroup and compose themselves under immense adversity.
Fortunately they managed to score a further two tries at the back end of the game and thus be the first school in VRL history to win back to back Cooper Cronk U/16 titles.
Credit must go to all the team members who worked tirelessly throughout the game and were deserving winners. Special mention goes to Richard Sisifa who was named man of the match.
VUSC 34 def Braybrook College 24
Melbourne Storm Cup
What a game!!! With many of the Y12 boys (Epati Misi, Callum Cook, Carl Pale, Job Baboth, Tee Beazley, Patrick Le, Kevin Cruz,  Blake Chan, Folau Fifita) playing their last game for VUSC, the team was highly motivated to send them off in the best possible way.  And that they did with a comprehensive performance where they totally outplayed and out-enthused their opposition.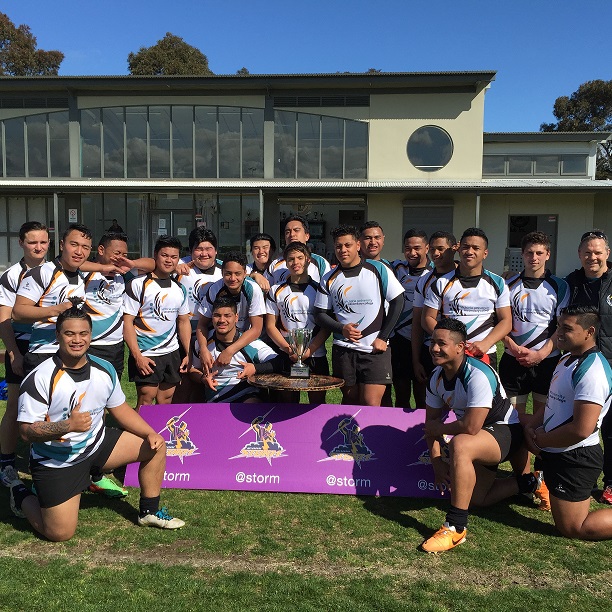 Playing with plenty of passion and confidence they raced in 6 first half tries and lead 30-6 at half time. Continuing on their dominance in the 2nd half they managed to score a further 4 tries and win the game by a big margin. There were many highlights but Kevin Cruz's try on his first touch in the game and Darrel Tai's 3 tries at left centre were fantastic. All boys are to be commended on how hard they played for their teammates and the way they went about demolishing the opposition with their skill level. Special mention goes to Tiui Misi who was named man of the match.
We wish all the boys leaving the program all the best in their future careers both on and off the field.
VUSC 46 def  Hallam SC 10
Congratulations to the following students for individual selections:
Tiui Misi, Jeremiah Muriwai, Nikau Williams, Richard Sisifa and Uala Salia who have been selected in the Storm 18's squad for preseason training.
Nikau Williams who represented VIC in the National U/18's touch titles in Caloundra.
Quidelis Dominic on her selection in the Rebels Girls U/18's Rugby 7's squad.
Uala Salia on his selection in the U/18's Rebels Rugby 7's squad.
Mr Tony Adam
Rugby Coordinator and Head Coach