VRL U/18 Presentation Dinner
Congratulations to Tiui Misi for winning the best forward category at the recently held VRL U/18 team Junior Reps Presentation Dinner at AAMI Park. Tiui was acknowledged and rewarded for his outstanding contribution to the team, in both attack and defence, and for his leadership qualities as captain of the team. Well done Tiui!!
CAS Selection – Tiui Misi & Uala Salia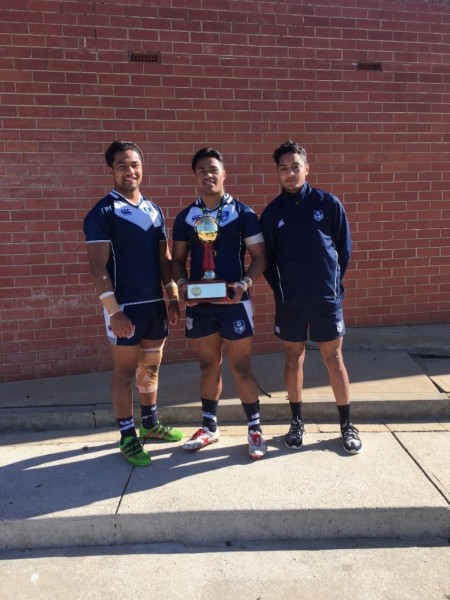 Congratulations to both boys for their selection in the Combined Affiliated State team to play in the Australian Schoolboy championship in Brisbane in early July.  Playing for Victoria U/18 team, Tiui and Uala were able to demonstrate their vast array of skills and contribute strongly to the overall team performance.  Victoria won the competition by winning all 3 games. Richard Sisifa also played at the carnival and was very unlucky to miss selection in the CAS team.  The boys have openly acknowledged the support and assistance they have received from their teachers and as members of the VUSC Sports Academy.
L-R: Tiui Misi, Uala Salia, Richard Sisifa.
GIO Trophy – Victorian Final
On Wednesday 15th June our Senior Boys Rugby League Team participated in the GIO Trophy state final against Hallam Secondary College at Wolves AJ Davis reserve. In a thrilling game that flowed from end to end and had multiple lead changes, unfortunately VUSC were unable to sustain a late charge and were beaten on the bell by a late Hallam try.
Despite the disappointment of the loss, the team is determined to learn from the game to ensure they are at their peak for the important trip to Cootamundra in July where they will be the Victorian representative in the Country Cup. Well done boys!
Final Score:  Hallam 34 v VUSC 28
Rugby League Academy Information Evening
We welcome and invite any interested families and students to attend our Rugby League Academy Information night on Wednesday 17th August commencing at 6.15pm and finishing at 8pm. This night will enable you and your son to gain an understanding of the program structure, expectations and fees that are applicable. If you are interested in attending the information night please contact the Senior Campus to register your interest on 8312 0200.