GIO Cup – Hallam SC 34 def VUSC 12
In an historical day for Victorian Schoolboy Rugby League the first ever GIO Cup game was played at AAMI Park between arch rivals VUSC and Hallam Secondary College.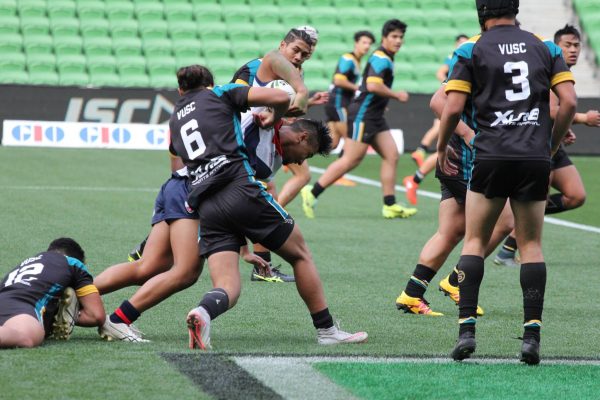 VUSC started the game off well but unfortunately back to back penalties gifted Hallam good field position and they were good enough to convert this into points with a try after 8 minutes. The next passage of play was all VUSC, who peppered the Hallam try line for an extended period but unfortunately could not get across it. This was a little disappointing as a number of missed opportunities went begging. To make matters worse Hallam were able to score just before halftime which left VUSC 12 nil down at halftime.
The 2nd half turned out to be a seesawing affair. Hallam scored first to extend their lead but then VUSC found their mojo and roared back into contention with 2 converted tries and a 18-12 score line with 15 mins to go and all the momentum. Unfortunately, VUSC's defence did not stand up under pressure and fatigue, and Hallam responded well to post a further 3 tries and win the game.
Despite the loss, VUSC can be proud of the way they responded after halftime to at least give themselves a chance to win the game and didn't stop trying right to the end. Again many lessons were learnt about what is required to compete at this level and the importance of doing the little and hard things well for the duration of the game.
The game was well supported by students, teachers and parents from both schools which helped to create a fantastic atmosphere. We look forward to our last game in the GIO Cup against Illawarra Sports High early in Term 3.
Mr Adam