Congratulations to three students from Year 9 who have been given the opportunity to attend the Victorian Alpine School at Dinner Plain for 9
weeks this term (pictured right). Ezias Danielson, Chantel Moncur and Nhung Le have successfully applied to attend the Alpine School for Student Leadership where the curriculum focuses on personal development and team learning projects sourced from students' home regions. Students are involved in a number of important processes this term; discovering their learning preferences, expeditions, selection of the teams for later terms, hosting a range of guests, developing a Portfolio and Website of their reflection and learning, presentation of their learning and ultimately a Community Learning Project presentation for important school and community leaders. Thank you to Ms Rebecca Hogarth for organising this fantastic opportunity and making the trip during term to support the students.
Congratulations also to these students for displaying the College Values of Aspire to Achieve, Respect Ourselves and Others, and Strengthen the Community with remarkable achievements –
Jaymir Sali in Year 11 for being accepted into the Spark Engineering Camp, which was held in Melbourne during the holidays from July 10-15. Apparently the applications were to a very high standard and Jaymir was selected amongst tough competition! Spark is a program of extension and hands-on learning based on engineering and Jaymir has worked hard for this opportunity. Well done Jaymir!
Chad Rosete in Year 12 who performed in the Young Australian Broadway Chorus on 22nd It is an excellent achievement to gain a place into this program and perform at such a high standard. Well done Chad!
Matagi Punefu in Year 7, Titan Tiananga in Year 8, Compton Fuatimau in Year 9 and Noah Lewis in Year 9 who have all been selected as a member of the SSV Rugby League State team for their age group to compete in the annual School Sport Australia Rugby League Championship in August. Well done boys!
Leanna Nguyen in Year 7, Mariana Fajardo Valencia in Year 8 and Huy Quoc Ly in Year 9 who all received a Certificate for Outstanding Academic Success this week; and for the many many students who received awards at the Junior Campus last week for Outstanding Exam Scores Above 90% and Outstanding Effort in Semester 1.
All of these students are to be congratulated on their wonderful achievements. The staff at the College are very proud of them.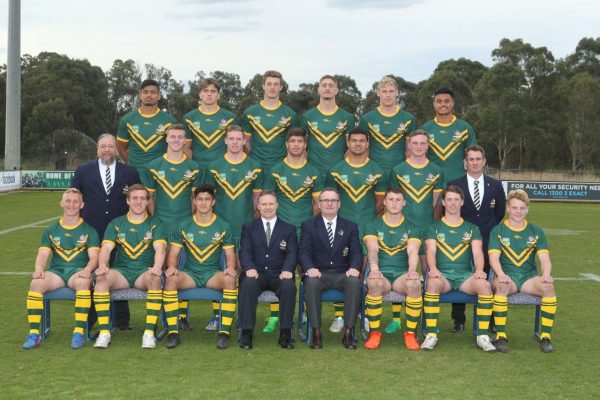 Finally, our Rugby League Coach, Mr Tony Adam, has been appointed as the Australian Schoolboys U18 Rugby League Coach for 2017. Tony will take the Australian team to New Zealand in September to take on the Kiwis. This is an amazing and very prestigious achievement. It is the first time in history that anyone has ever been appointed this position from outside NSW or QLD. Here is a photo of Tony with the team (front row, fourth from the left).
Well done Mr Adam!