GIO Cup Illawarra Sports High 32 defeated VUSC 24
For our last GIO Cup game for the year the VUSC Rugby League team travelled to Wollongong last week to play Illawarra Sports High at the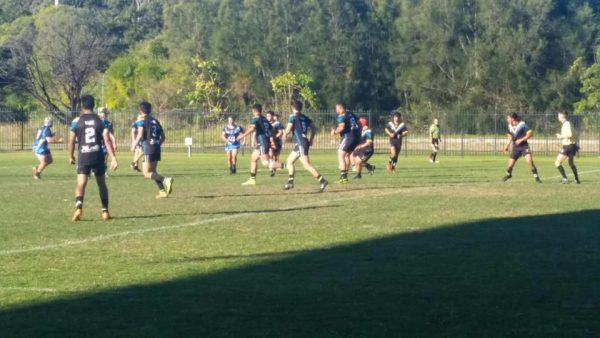 prestigious Collegians Sports centre.
With a flight to Sydney and over an hour on the bus to Wollongong, VUSC started the game off very slowly and were soon down 10 nil after 10 minutes. Too many missed tackles and unforced errors at the back resulted in gifting the opposition field position and as a result we were unable to hold them out while they managed to post 2 tries. This tread continued for the first 20 minutes where VUSC were constantly put under pressure. However, the tide started to turn and last 10 minutes of the half saw VUSC trade sets and get an even share of possession resulting in the team putting Illawarra under pressure. The 18 nil score line was not as bad as it seemed.
The 2nd half turned out to be all VUSC. Despite Illawarra Sports High scoring first, VUSC managed to grow in confidence and gain momentum and thus played some of their best football of the year. Running hard and executing their plays they managed to score 5 second half tries.
Despite the loss, VUSC can be proud of the way they responded after halftime to at least give themselves a chance to win the game and didn't stop trying right to the end. Again many lessons were learnt about what is required to compete at this level and the importance of doing the little and hard things well for the duration of the game.
We would like to formally thank IVET for sponsoring the team and thus enabling us to travel more comfortably in VUSC tracksuits. Overall, our first year in the GIO Cup has been a big success and the boys are to be congratulated on the way they have conducted themselves on and off the field. Although results were not where we would like them to be, we have learnt a tremendous amount about ourselves and what it takes to compete at the highest level in schoolboy rugby. Hopefully the defeats will inspire and motivate next year's team to prepare well and give themselves every opportunity to get a win.
To all boys who played some part in the team's preparation over the past 6 months, you are to be commended for the way you have conducted yourself and represented VUSC with pride and integrity. The sportsmanship shown in all games was outstanding and portrayed all the values we seek at VUSC.
Mr Adam