Swimming Carnival – Wednesday 21st February
The first major whole school event was held at St Albans Aquatic and Leisure Centre which saw a great turnout by students and some solid performances by all competitors. Thanks to all staff and students who ensured the carnival ran smoothly on the day. All sports houses were well supported by the House Leaders who were appointed prior to the event.
Congratulations to the House Captains for 2018 who are:
Mabo (Yellow)
Ramzy Mohammed Ali – 12C
Elisa Taliao-Maulolo – 12C
Jay Kreitling – 12B
Jancey Fesolai – 12A
Brack (Blue)
Lameck Maneneka – 12A
Vi Phan – 12B
Hyrum Seumalii – 12A
Mavis Alani – 12C
Bradman (Green)
Haloti Fonua – 12W
Kaychia Dominic – 12A
Entoni Spirkovski – 12A
Challis Collier – 12W
Monash (Red)
Vaka Kama – 12V
Paytan Ozols – 12A
Adel Bastawros – 12W
Patience Pyne – 11C
Current placings 2018:
Placing House Points
1st Monash 250
2nd Paterson 202
3rd Bradman 196
4th Mabo 160
5th Brack 156
**********************************************************************************************************************************************************
Sprint training has commenced for our Sports Academy students under the guidance of Talia Panozzo: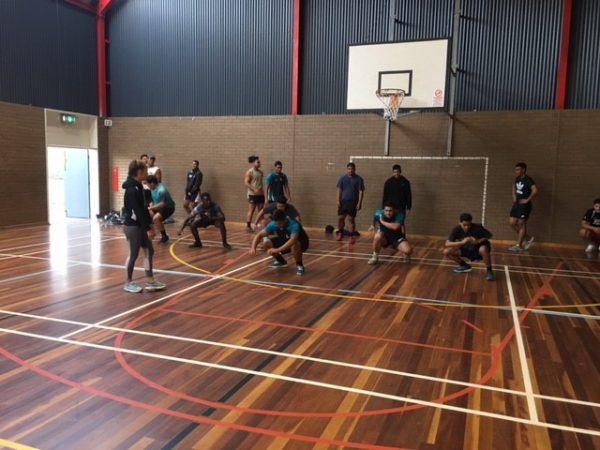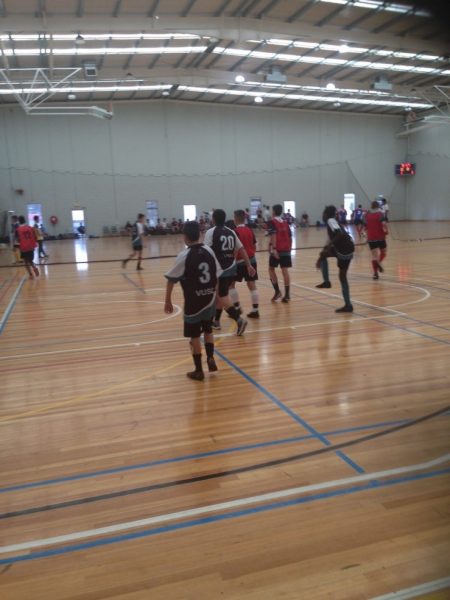 Senior Boys Futsal – Wednesday 7th March
The Futsal team under the guidance of Mr Peter Giles played well in the rounds and were rewarded with a quarter final match for their efforts. Unfortunately, the team was beaten 7 – 5 in a very close contest. Congratulations to the following students who represented VUSC at this event: Dougie Belayneh, George Cini, Jason Douyere, Lameck Maneneka, Entoni Spirkoski, Jacob Rengthlang, Sadi Ulduru, Ali Yalcindag, Karimu Zuberi, Victor Nguyen.
Keilor Division Swimming Championships – Friday 9th March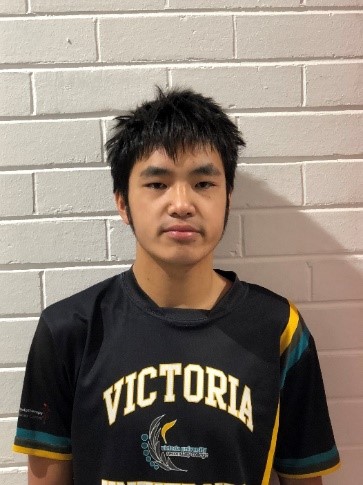 At the completion of the VUSC Swimming Carnival, the following students were selected to represent the college at the Keilor Division Swimming Carnival. All students competed well with Khoa Tran (right) from Year 10 being selected to represent the Keilor Division at the Regional Carnival in Geelong on 29th March. Congratulations to Khoa and the following students who represented VUSC at this event: John Cattanach, Jacy Dinh, Laycee Eustace, Destiny Eustace, Megan Fell, Kevin Kha, Kris Kokkinidis, Alexandra Kokkinidis, Donald La, Matthew Le Gallais, Wasim Phu, Kennedy Scicluna, Rebecca Tat, Khoa Tran, Kelly Whetton. Well done!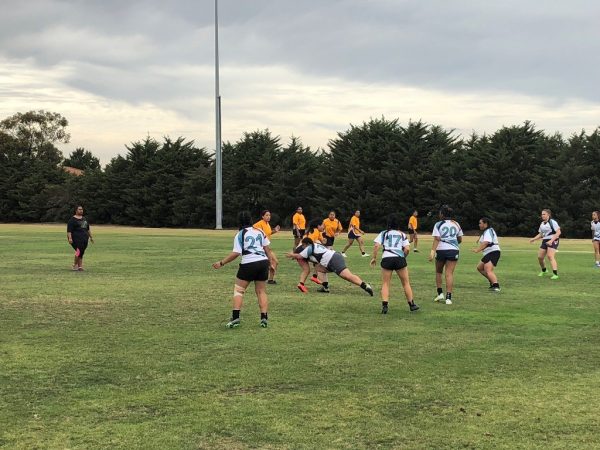 U18 Boys & Girls NRL Rugby 9's – Thursday 15th March
Both boys and girls teams represented VUSC with some free flowing rugby skills which saw some great attacking skills and strong defensive efforts to see the boys go undefeated throughout the carnival and the girls get better with each game. Thanks must go to Mr Phillip Taula who assisted with the coaching of the girl's team on the day with support from Mrs Deanne Clark. Both boys and girls teams were successful in moving forward into the next stage of the 9's which will be held in May. Players who represented VUSC were:
Girls –
Mavis Alani, Moeitaga Anae, Challis Collier, Neisha Collier, Kaychia Dominic, Rebecca Dominic, Sarah Epa, Laycee Eustace, Santoria Faaofo, Faith Faimasasa, Noelle Lo Tam, Etta Puea, Patience Pyne, Jayne Seumalii, Elisa Taliaoa Maulolo, Sheniqua Taula, Payton Ozols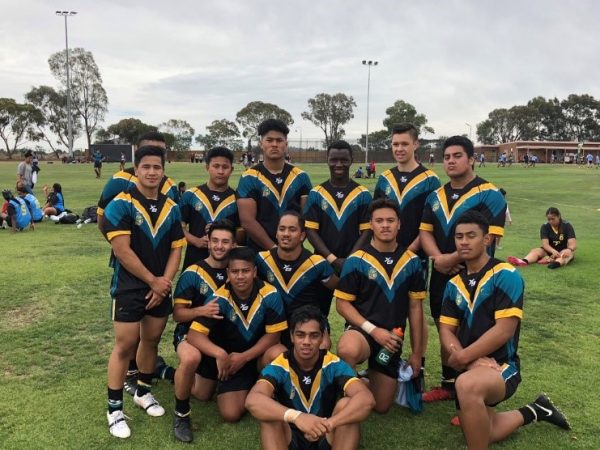 Boys –
Faamai Aleni, William Faiva, Willie Fautauaali'I, Haloti Fonua, Dallas Holtz-Ewe, Shalom Leasi, Denzel Maiava, Lameck Maneneka, Finau Paseka, Shaquon Te Huia Haehae, Lloyd Tevite-Letalu, Sione Tuputala, Dillon Vale
Senior & Intermediate Boys/Girls Volleyball – Friday 16th March
Some great teamwork and skills were displayed by all the volleyball teams who represented VUSC at this event. The senior girls in particular took up the challenge to a very good Copperfield team in their second pool match but eventually were beaten 26-24 in a highly entertaining match. The intermediate girls' team also played some great volleyball but were eliminated after the pool matches from the competition.
The senior boys' team were dominant in their competition and were successful in going undefeated in the carnival and progress through to the next stage held next term whilst the intermediate boys played well in all games but were defeated in the semi-final of the competition. VUSC were represented by the following students at this event:
Senior Girls –
Challis Collier, Neisha Collier, Santoria Faaofa, Jancey Fesolai, Sydoly Nonu, Samantha Tavita Anitipa
Intermediate Girls –
Maletima Kama, Adrianne Luafalealo, Berita Nonu, Malia Otukolo, Dan Marion Pule, Faith Sagote-Mears, Tara Savavau, Agnes Tanuaulilo, Grace Tevita Anitipa, Anna Welles
Senior Boys –
Haloti Fonua, Levy Leasiolagi Mona, Amo Logopati, Denzel Maiava, Jermaine Nanai Tui, Teofilo Seigafo, Jay Tavita Anitipa, Sione Tuputala
Intermediate Boys –
Wlliam Faiva, Simon Fautuaali, Noah Natupu, Henderson Pouli, William Purcell, Poasa Telepe, Declan Tupou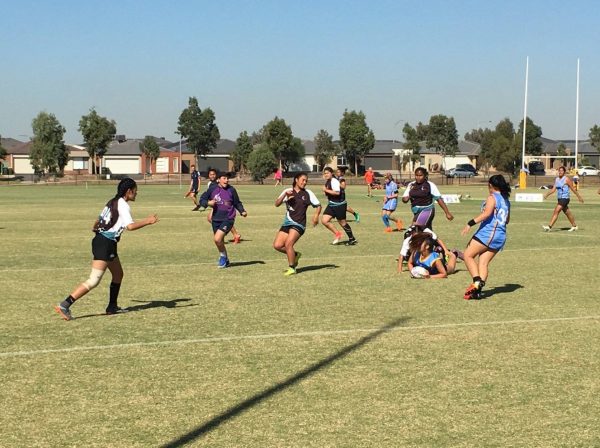 U16 Boys & Girls NRL Rugby 9's – Thursday 22nd March
The intermediate boys and girls teams represented VUSC well with both teams, under the guidance of Mr Tony Adam, showing some good skills and teamwork at this event. The boys' team went through undefeated to win the event whilst the girls lost their first game but regrouped to finish second overall and both teams progress through to the next stage of the 9's in May.
Rugby League Academy Camp
On the 25th and 26th February, 25 Rugby League Academy students participated in a 2 day leadership and team building camp at Lady Northcote Recreation centre at Rowsley, Victoria.
The aim of the camp was to challenge each and every student-athlete physically, mentally and emotionally as well as get to know each other in a different environment. Students participated in many fun and challenging activities that required teamwork and trust as well as participating in an intense conditioning session conducted by Mr Maieron. The Raft building exercise was a highlight as groups were asked to build their own crafts to navigate a stretch of water at the camp. Needless to say, 2 groups finished up getting very wet and in need of being rescued.
Throughout the camp the squad continuously impressed us with their ability to work together as a team and push themselves beyond their limits. This we believe will be the platform for a successful year in both the classroom and on the training and sporting field.