Recently our College proudly stood united with schools across Australia to mark the eighth National Day of Action against Bullying and Violence (NDA).
The NDA provides our school the opportunity to stand together on this important issue and help ignite thoughtful and positive discussions about bullying and ways we can work as a community to address it.
I'm proud our school community is sending a powerful message, along with other Australian schools, that bullying and violence in or outside the classroom, are not okay at any time. Through positive action we can make a real change.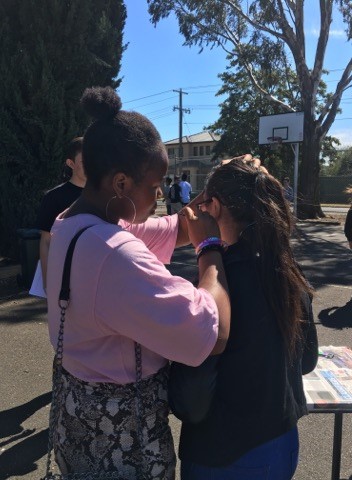 We are so proud of how the school, both teachers and students rallied together on this day to raise awareness for such an important issue. At the beginning of the day, the students found positive notes in their lockers, with sayings like 'We love you the way you are' and 'You're really something special!' Every student participated in anti-bullying education sessions and a 'Bullying. No Way!' survey. Wrist bands were handed out to all students to wear on the day and we had some amazing performances from our music students. A BBQ lunch was provided and there was face painting and positive messages written in chalk on the ground.


At Victoria University Secondary College, we are dedicated to supporting our students and families. We need to ensure we are providing safe and supportive learning environments, free from bullying, harassment and violence.
We have a number of programs and initiatives in place at Victoria University Secondary College that counter bullying. In 2017 Victoria University became an accredited eSmart school. eSmart, an initiative of the Alannah & Madeline Foundation, helps teachers to best manage cyber risks, bullying and cyber bullying issues and incidents so that students will feel safer and supported at school.
This is a framework that sits across the entire school – teachers, students, parents and the school community – and it is embedded into the school through our curriculum implementation, our leadership development and practice, our technology systems as well as in our wellbeing programs.
Please visit the Bullying. No Way! website (www.bullyingnoway.gov.au) for practical advice and information to help students, parents, teachers and other members of the school community to work together against bullying.