On Tuesday 24th July, students in the Year 8 to 10 AVID classes participated in a model United Nations conference.
The topic that delegates (students) discussed during the mock General Assembly was 'Zero Hunger', one of the United Nation's Sustainable Development Goals.
The conference was hosted by the United Nations Association of Australia, Victoria Division and their President, Professor Ian Howie acted as Secretary-General on the day. In preparation for the event, students had completed research into their allocated countries, learnt about the causes and consequences of global food insecurity and been introduced to the history, composition and priorities of the United Nations General Assembly.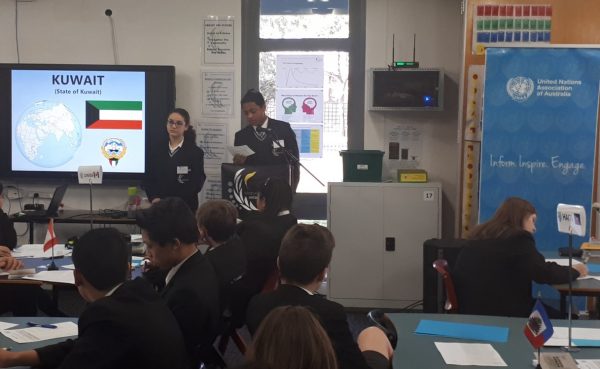 The conference commenced with representatives from each country presenting their country's position statement on Zero Hunger. These position statements were informed by the students' research into their country. Whilst there were certainly nerves, students were very impressive in acting as delegates of their country and representing their country's specific needs and priorities.
During the final session, countries were required to vote on the proposed amendments to the draft resolution. In a final vote, a new resolution on Zero Hunger was passed. The model United Nations conference was both a learning experience for students in negotiation, decision-making and global policy-making, as well as an opportunity for students to demonstrate their skills in collaboration, critical thinking and using evidence to justify their opinions.
Congratulations to all the students involved for an awesome day and their fantastic efforts to prepare their statements. Our staff and the visitors from the United Nations Association were very impressed! Thank you to Ms Muratore for organising the day.
Click on this link to see us in the newspaper –http://www.starweekly.com.au/news/united-in-learning/