On June 1, the WYNSPEAK public speaking competition was held at Thomas Carr College in Tarneit.
Our college is proud to announce that the winner of the Junior Division was Seychelles Camomot from Year 8! Well done Seychelles!!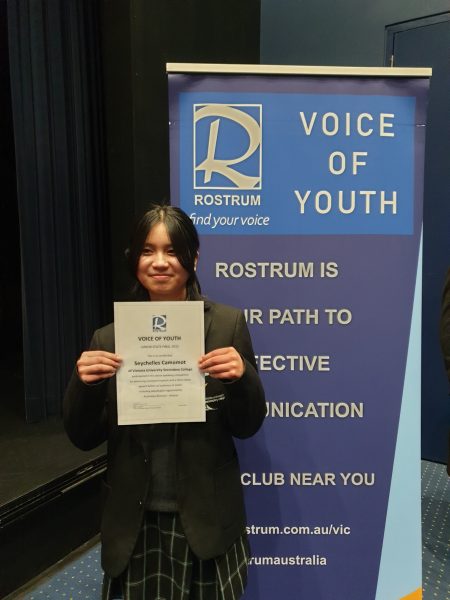 Seychelles was outstanding, and represented our college with pride and confidence. VUSC will also have the opportunity to display the WYNSPEAK winners' boards at our college for one year until next year's competition begins. We will receive the boards once they are engraved and parents will be able to view them in our college foyer.
Students from both public and private schools participated in the competition over eight rounds culminating in the Rostrum Voice of Youth State Final on June 19 at St Kevin's College in Toorak which Seychelles attended. Her wonderful speech was extremely well prepared and the impromptu 3 minute speech was definitely a challenge, but we congratulate her on her fantastic effort. She made us very proud.
This was an excellent learning experience for Seychelles and all the students, as the adjudicators gave them all great feedback about how to improve their public speaking skills. Congratulations Seychelles!